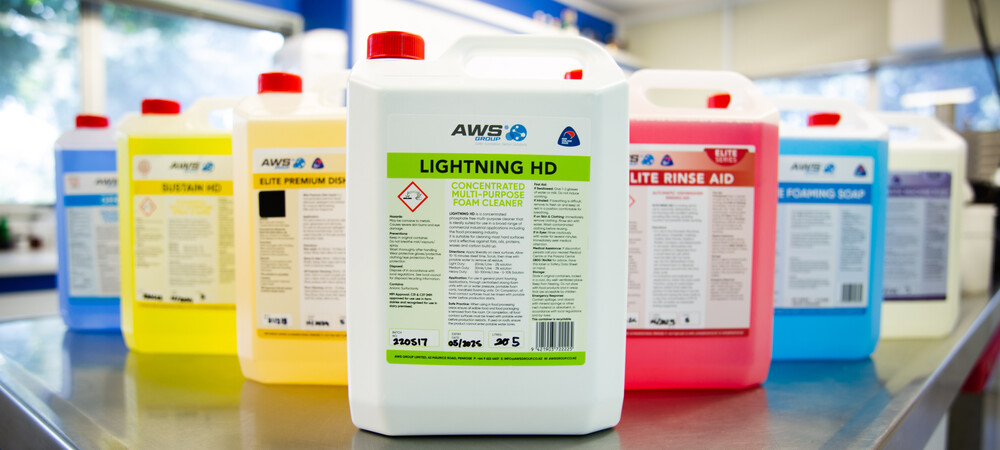 The solutions you're looking for
Products and applications for cleaning and sanitising hard surfaces, air purification and water treatment.
Foaming Detergents

An effective range of foam cleaners for the food processing industry. Our products are formulated to help cut through difficult soiling without leaving interfering residues. You can have extra assurance of prolonged life for your equipment and surfaces.

CIP

When it comes to cleaning interior surfaces of pipes, vessels and equipment without having to disassemble parts, AWS Group has the CIP (Cleaning-In-Place) chemicals and knowledge for the job. Low Foaming Alkali, Acid Descalers and Oxidisers to clean and remove unwanted biofilm.

Exterior Wash

Our range of Exterior Wash chemistry ensures your surfaces are clean, restored and protected. We have specialised solutions for the Car, Truck, Marine, Rail and Aviation industries. Our in-house chemists are also capable of formulating chemistry to suit specific substrates if required.

Food Processing

Food Safety is paramount for a successful food business. AWS Group can assist with expert advise on sanitation controls to prevent risks. This includes support with cleaning procedures and practices, prevent hazards for pathogens, allergens, cleanliness of food surfaces and equipment. We have chemistry suitable for raw product through to processed product.

Pathogen Control

Identifying where pathogens are can be difficult. Basic understanding of processing design, processing floors, drainage and harbourage points can help with control. AWS Group has a wide range of chemicals for pathogen control along with support for validating your sanitation protocols. Selecting the correct chemicals and procedures ensures best-practices.

Moss/Mould

AWS Group is conscious of the environment and providing safer solutions. Our range of Moss/Mould killers treat surfaces to kill and control unsightly biological contamination without the use of harsh chemistry. We have non-caustic solutions that are safe to use around plants when diluted and applied as per directions.

Antimicrobial Coatings

AWS Group has a range of high performance, sustainable and non-leaching sanitation solutions proven to kill 99.9% of known pathogens. Cutting edge treatments based on Amino Silane technology, imparting long lasting antimicrobial solutions to the surfaces of a wide variety of substrates.

Water & Wastewater Treatment

Protecting our environment with safe, non-toxic chemistry is essential. Our ANK Neutral Anolyte is suitable for Drinking Water, Tank Water, Pools, Odour Control and more. Without the harsh effects of conventional chemicals.

Horticulture

With a range of products that are Biogro Certified, AsureQuality Assessed and MPI Approved, AWS Group leads the way in efficacy and log reduction for produce washing and sanitising. We will work with your operations team to implement the right solution.

Agriculture

Each sector has its own requirements, regulations & restrictions, from Dairy to Poultry, AWS Group has a product within its range to benefit industry. Hard Surface disinfection, cleaning, fogging, water & wastewater treatment.