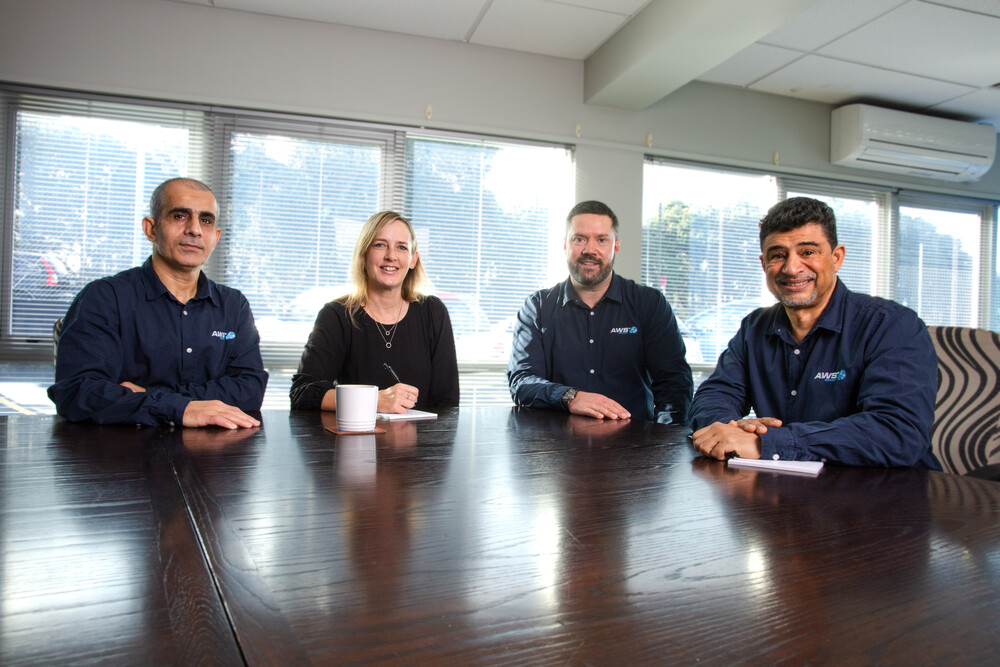 About us
AWS Group is a division of Hawkins Watts Limited and proudly New Zealand owned and operated. We specialise in innovative pathogen control for a wide range of industries.
AWS Group is an acronym for Air, Water and Surface, areas where the group delivers specialised sanitation technologies, solutions and advice for high-risk hygiene control areas.
We take a holistic view, and work with clients to provide optimal solutions that are still cost-effective. Our core focus is sustainability without compromising performance. Our ultimate goal is to replace toxic and harmful chemistry with safer alternatives that are equally powerful and effective. Along with our product innovation, we also pride ourselves on our project delivery and service ethic. Within the AWS Group we have a team of specialists with diverse skillsets, enabling us to design and execute bespoke sanitation and hygiene solutions for any sector of industry.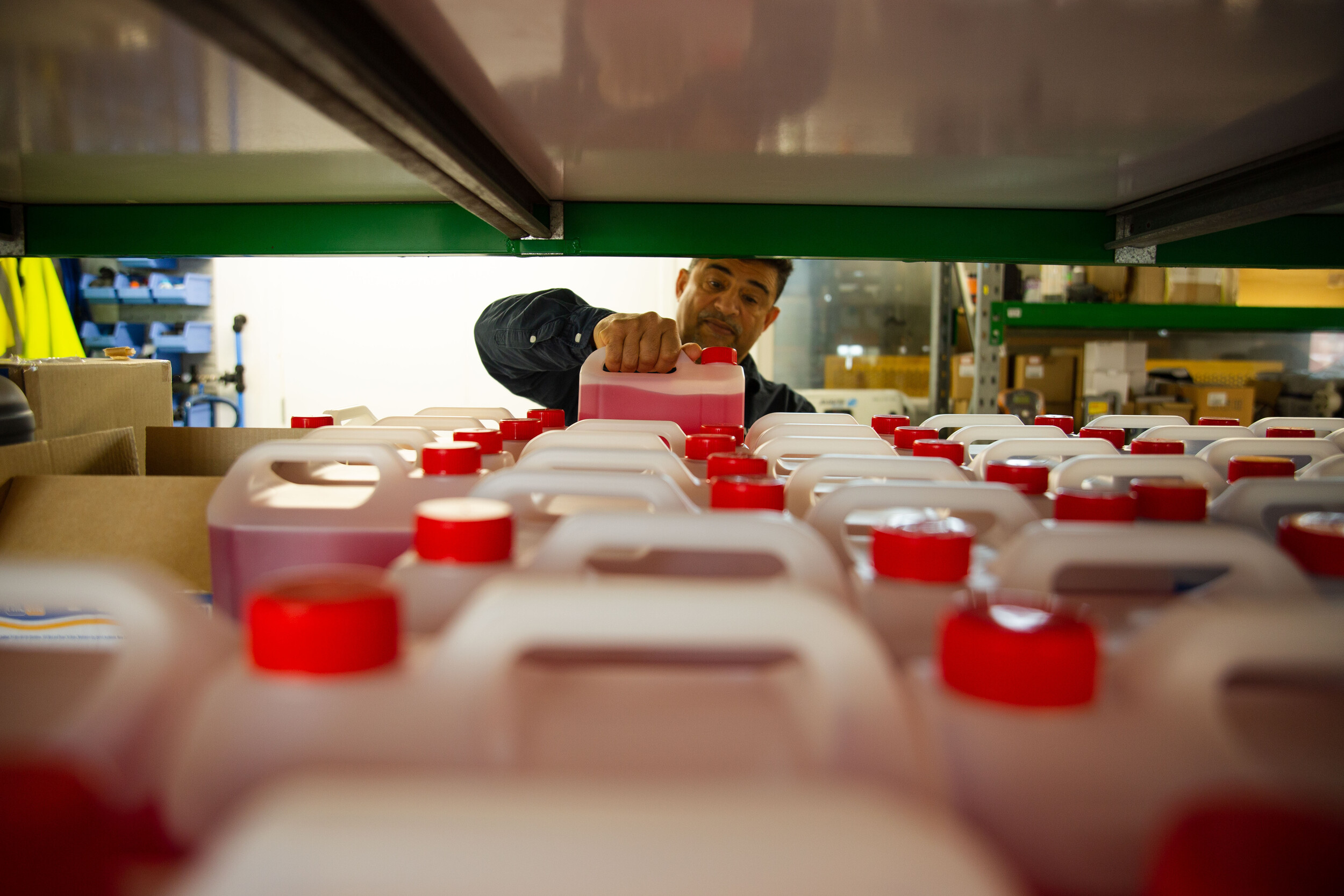 Our strengths
Collaborative Consulting and Top-notch Service.

AWS Group works with all types of industries and businesses to tailor safer, better performing solutions that do not rely on toxic chemistry. These bespoke solutions are backed by totally reliable service, making us the 'go to guys' for a complete cleaning, sanitation and hygiene solution.

Product Innovation

With a strong focus on product innovation through the applied use of new and emerging technologies, AWS Group aims to offer a unique and sustainable point of difference with every product manufactured and distributed.

International Distribution

Servicing Australia, New Zealand and the Pacific Islands, AWS Group has a comprehensive distribution network to ensure products and services are available to meet market demand.
Meet some of our team
Richard Hanna

Group General Manager

Richard Hanna

Group General Manager

When you surround yourself with great people, the commute to work is an easy one!

As Group General Manager there's never a dull moment, whether the day consists of solving complex issues for our clients or making sure we are ahead of the game in terms of products and service, there's always something interesting happening. I really enjoy being client facing as much as possible. Our business is about client relationships as much as it is about industry leading products. My goal is a productive day, every day. But when it's done, I have a fantastic wife and two daughters to go home to. On days off, I enjoy spending time with family in the great outdoors and being a keen fisherman, I like to get out on the water as much as the weather allows. I'm a great believer in getting work/life balance right, and it's something I try to encourage for everyone who works at AWS Group.

Marvin Smith

Key Account and Business Development Manager

Marvin Smith

Key Account and Business Development Manager

AWS Group is about the business, it's employees and customers succeeding, together.

My role is to look after our existing clients and their needs, as well as new business. I'm also involved with developing our product and equipment ranges, especially for the food and beverage industry. AWS is a family business, that makes for a good workplace because the people at the top really care and that filters down. I'm naturally a calm person, and I think this helps when the pressure is on. We're a good team, and we solve things together, taking the time to get it right. I have a lot of interests outside of work, which I can pursue more now I am an empty nester. I'm a musician, playing a variety of instruments, I have a black belt in Shaolin Kung Fu and once won the NZ Championship! On a more relaxed level, I love fishing on my boat, and travelling.

Basim Taher

Process and Manufacturing Manager

Basim Taher

Process and Manufacturing Manager

I've been passionate about science, ever since I was a kid and now, I spend my days researching and formulating products, which I really enjoy.

I was brought up in Baghdad, where I studied chemical engineering before emigrating to New Zealand. When I came to Auckland, I continued my studies, and I now have a master's degree in chemical engineering. It's great to be able to use my knowledge and skills in a company that values innovation, professionalism and working as a team.

AWS Group has a diverse, talented, and friendly team. I really value the relationships, not only with my colleagues but also our suppliers and customers.

My responsibilities range from ensuring all our manufactured products meet strict quality standards, to R&D and formulation of innovation. That's something we're very strong on here at AWS Group, it's definitely part of why I enjoy my job.

Away from work, I like my sport, particularly soccer, which I still play. Plus, I'm a bit of a handy man so working round the house in the weekends always keeps me busy.

Melanie Gilbert

Office Admin & Customer Service

Melanie Gilbert

Office Admin & Customer Service

Providing the best customer service to our ability, is key to me.

My role is varied, which I really enjoy. I'm responsible for customer service, accounts, purchasing, inventory and logistics, so there's plenty to keep me busy. We have a great team here, we're very service-oriented people, and that makes it easy to get things done. Outside of work, I enjoy hanging out with family, catching up with friends and going to the gym or the beach. I have a great family, I'm very lucky and enjoy spending time at home with them.
Company history
2007
Fonterra starts to use Envirolyte® unit at one site.
2012
Hawkins Watts enters partnership to distribute & service Envirolyte® units in NZ & Pacific. Customers include; Auckland Zoo using Anolyte.
2012
Envirolyte® NZ obtain regulatory approvals & locally validate the Envirolyte® product suite in NZ.
2013
Richard Hanna joins Envirolyte® NZ. Heyden Farms adopt Anolyte to sanitise eggs.
2013
After extensive testing, Fonterra expands use of Envirolyte® products & services across 7 sites.
2013
Watercare introduce Envirolyte® to their Omaha Wastewater treatment plant.
2014
Being owned by Hawkins Watts there was a natural progression to food processing. Envirolyte® expands the product suite.
2015
Western Bay of Plenty introduce Envirolyte® NZ to their Maketu Wastewater treatment plant.
2016
Expansion into horticulture and post harvest sanitation (bagged salad). Frenz Eggs acknowledge organic nature of the Anolyte and use this to initiate the "Kitchen Safe" endorsement.
2016
Envirolyte® NZ Sponsor AUT Microbiology students.
2016/2017
Envirolyte® NZ acquires Sanitas Technologies adding Q-bond & Microclear Plus to product suite. Don MacDonald appointed Technical Lead. Whittaker's Chocolate starts using Anolyte.
2018
Envirolyte® NZ Consolidates both the Envirolyte® & Sanitas business under the AWS Group. AWS being an acronym for Air, Water & Surface.
2018
AWS appoints Marvin Smith as Business Development & Key Accounts manager, with a focus on food & beverage industries.
2018
AWS Sponsor AUT Microbiology students.
2019
Expanding client base of post harvest processors, food & beverage; including Synlait, Fresh Group, Tonzu, Nutrifare, Fresh Direct. AWS Group Acquires NZ Aussan L44 agency supplying PGGW, Farmlands, Fruitfed.
2020
AWS Group forms key partnership with Pharmaco, developing The EcoChemist range global distribution.
2020
AWS Sponsor AUT Microbiology students.
2020
AWS Group experience demand in their hygiene & sanitation products. Efficacy data obtained via US Lab. AWS Group expand offering into Contract Manufacturing & Filling.
2020
Southland District council, install Envirolyte® units to the Te Anau wastewater treatment plant.
2021
Basim Taher joins AWS Group as Technical Manager.